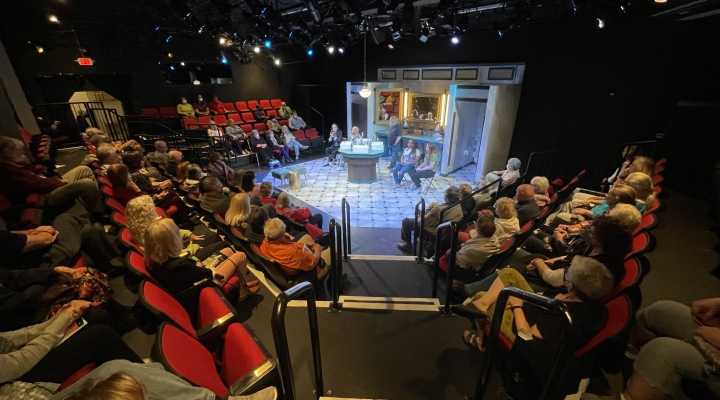 Preview Performances – adding the audience to the mix!
When you make a piece of theatre, you talk and plan and rehearse and rehearse. And then you add the final piece of the puzzle – the audience. Because theatre is a wonderfully warm medium, the audience really does play a role in the storytelling journey. Every individual audience has its own personality, and each performance is a unique experience.
At the Williamston Theatre we honor the important role that our audiences play with our Preview performance process. The first four performances in a run are considered Previews. Though the play is fully rehearsed and ready for an audience, these are the first performances with an audience. Each Preview has a talk back with the production's director and WT Artistic Director Tony Caselli to learn from the audience. During that talkback we ask for general feedback and also ask some very specific questions about how you experienced the production. We don't have our "official" opening night, or let the critics in, until we have heard from you.
This process is especially important in World Premiere productions. We often work with the playwright when we are producing a brand-new play, and audience reaction sometimes sends the playwright back to the script to make some changes. Though we can't change the script in a play that's already been published, there are myriad ways we can tweak the production to tell a more complete story and better honor the script. We are, technically, still in rehearsal during the Preview phase, so we'll return to rehearsals after several Previews to incorporate what we've learned from our audience.  Preview performances, and audience feedback, are very useful to the entire production team of every show.
You'll notice that Previews are also priced differently. The first performance is always Pay-What-You-Wish. The remaining previews are priced at $22. We are committed to keeping our Previews at a lower price point to give as many people access to high-quality, live theatre as possible.
Try coming to a Preview and sharing your feedback about the production… and then return to a performance later in the run to see how the performance evolves and grows.