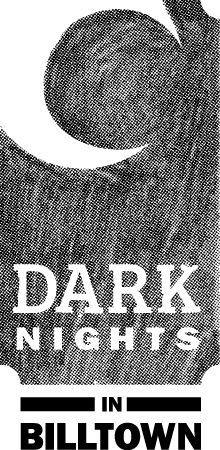 Dark Nights in Billtown
Dates
Description
Dark Nights in Billtown is our opportunity to explore interesting plays, topics and conversation with our audience members. Join us for staged readings of three plays in the 2022-2023 season, read by professional actors under the guidance of professional directors. These scaled down evenings let us bring more theatrical experiences to you.
Monday, October 24, 2022 at 7pm
The Snatchening
By Jeremy Kareken
Directed by Tony Caselli
Join us for a reading of Broadway Playwright Jeremy Kareken's eerie, funny, sci-fi play, The Snatchening. In this unsettlingly humorous tale Miles returns from an extended stay at an inpatient psychiatric facility to find Becky, his ex-wife, troubled by their son's behavior. Seemingly overnight their son has become functional and compliant. As they and two therapists get involved, they become aware of a dangerous new psychiatric protocol that no one seems to have prescribed, and a malevolent entity that seeks to alter our humanity.  What will the fate of the planet be?
This reading will be held in-person at the Williamston Theatre! No reservations necessary. Suggested donation of $10 at the door.
Mark your calendars for all the Dark Nights in Billtown this season - February 13, 2023 and April 10, 2023.