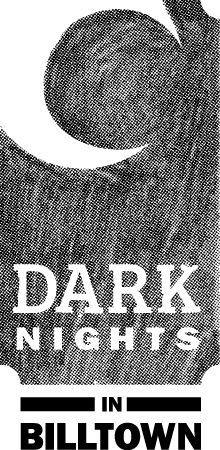 Dark Nights in Billtown
Dates
Description
Dark Nights in Billtown is our opportunity to explore interesting plays, topics and conversation with our audience members. Join us for staged readings of two plays in the 2021-2022 season, read by professional actors under the guidance of professional directors. These scaled down evenings let us bring more theatrical experiences to you.
Monday, April 11, 2022 at 7pm
Recipe
By Michael Gene Sullivan
Directed by John Lepard
The Morning Glory Baking Circle seems like a harmless enough group of women bakers of retirement age... until they reveal the rest of their title, "for Revolutionary Self-Defense!" They may appear inoffensive, but they are as dedicated to making pies, cakes, muffins, and cobbler as they are to overthrowing the fascist corporatocracy of America... with a "K!" But when they invite a young Black reporter to their rebel headquarters to divulge their latest plan to for socialist revolution the last thing they expect is that she might be an F.B.I. mole, sent to infiltrate and destroy them. Or is she? Are they just paranoid old nuts, or has the government really taken notice of them? Contains adult language and content.
Featuring Ruth Crawford, Julia Glander, Brenda Lane, Karen Sheridan, and Alexandra Taylor. Stage directions read by Adam Kruger.
"Part farce, part satire, even part mystery, but make no mistake: The political agenda of this seemingly dotty quartet is no joke. Funny, and alarming." - Examiner.com
Zoom Meeting ID: 824 6734 1505
This reading will be conducted over Zoom. You'll need to log into your Zoom account and enter the Zoom meeting ID number (if you don't have a Zoom account, you can set one up for free). You will be held in the waiting room until the WT staff admits you to the reading. No password is necessary. Please keep your video and microphone off for the duration of the reading.